Three Keys
japanese title

サンボン

translation
Sanbon

Production information

Scenario
Yukito Kizawa
Storyboard
Takashi Kawabata
Production
Takashi Kawabata
Directed by
Kazuya Shiotsuki; Akihisa Takano; Junichi Takaoka; Hatsue Nakayama

End card

Mel Kishida
Broadcast information
Japanese broadcast
April 19, 2014
Other airdates
January 5, 2019 (United States)
Crunchyroll
Watch Here
Hulu
Watch here
Episode chronology
← Previous Episode
Ordeal
Next Episode →
Typhoon
Three Keys (サンボン, Sanbon) is the 15th episode of the Nisekoi series that is originally written and illustrated by Naoshi Komi as a manga. The episode premiered on April 19, 2014.
Overview
[
]
Finally having recognized Marika, the latter fills in Raku about their childhood days and how she molded herself into being Raku's ideal woman then kissing him on the cheek by surprise.
With the existence of three keys further shadowing the true identity of the promise girl — in the midst of the confusion — Marika invites Raku to her home to pay respects to her father. Upon visiting Marika's father, Raku fears him and learns how much her father wants to throw Raku's father in jail. Raku also learns Marika's flustered side to her when Raku compliments her.
Characters
[
]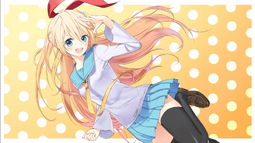 Debut
[
]
Episode Notes
[
]
Character Revelations
[
]
Differences between anime and manga
[
]
Trivia
[
]
[

]