Hot Springs
japanese title

オンセン

translation
Onsen

Production information

Storyboard
Abe Noriyuki
Production
Shuji Miyahara
Directed by
Yoshiaka Ito; Shimizu Akihisa Takano; Takemoto Kawashima Kumiko; Shota Tsukiyama

End card

Namori
Broadcast information
Japanese broadcast
March 8, 2015
Other airdates
November 24, 2018 (United States)
Crunchyroll
Watch Here
Hulu
Watch Here
Episode chronology
← Previous Episode
Happiness
Next Episode →
Lottery
Hot Springs (Onsen オンセン) is the ninth episode of the Nisekoi series that is originally written and illustrated by Naoshi Komi as a manga. The episode aired on March 8, 2014.
Overview
Edit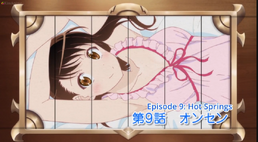 Raku's
class has a trip to a hot springs resort.
Shū
arranges for Raku,
Chitoge
,
Kosaki
and
Seishirō
to ride together and bump into each other on the way. Chitoge recalls the boy from her diary with a scar on his forehead, but is shocked when she sees Raku with a forehead scar. After settling in, they played card game with a bet that whoever loses will have to tell about their first love. After cancelation of the game, the group plans to take a dip at the hot springs.
Claude
switches the signs for the men's and women's bath to trap Raku into the wrong hot springs. In the bath, Chitoge finds Raku and is angry at first but understands the situation once they figure Claude is the one causing it. The two cooperate to get Raku to an escape route, however, the other girls arrive, and Kosaki's talk about first love has Raku curious. Raku eventually escapes and apologizes to Chitoge later.
Mini Episode Overview
Edit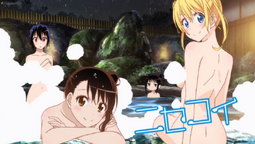 Ruri
tells Raku and Shū to keep out of the girls' side of their hotel room which they agree to but Shū ends up opening the door between the rooms anyway. Although Raku didn't do anything, both he and Shū get the consequences from Ruri by sleeping upside-down outside.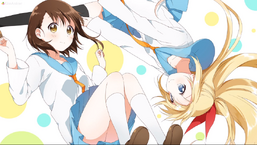 Characters
Edit
Chapter Notes
Edit
Character Revelations
Edit
Difference between anime and manga
Edit
This episode was adapted by Nisekoi Chapter 21: Scar, Chapter 22: Hot Springs, and Chapter 23: Girls.
This episode didn't have an ending outro and was replaced with a continuation of the episode.
Community content is available under
CC-BY-SA
unless otherwise noted.